Extract taken from a letter by Massimilliano Truzzi to his son Marcello in May 1971 regarding our family history.
Sometime around the year 1820 in the Town of Ferrara in Italy there was a Marquis by the name of Gofredo di Montalcino his wife was a   Society lady who kept a big stable of horses-they had a son Massimilliano (my grandfather).Originally the Montalcinos came from Venice but some time in the 16th century one of them killed the son of the Doge in a duel and the family fled to Ferrara. After the death of her husband the Marquisa married Serafina Truzzi a Horseman and owner of a Circus in Rome-he adopted the young Massimilliano.
After her death Truzzi continued in the Circus and married the widow of Allesandro Franconi –Luisa Busani (The Franconis owned many circuses and Hippodromes in Paris) she had three children: Rodolfo who was in College in Milan and Luigi (Gigetto) & Esterina who became circus artists Esterina being one of the greatest bareback riders of her time. My father Enrico was born in 1870. In 1880 the great entrepreneur Albert Salamonsky heard about the wonderful performers, horse trainers, the Truzzi Family and invited them to Russia.  The Truzzi toured all over  Russia eventually owning many Circus buildings in Kiev, Odessa, Sevastopol, Rostov etc  (Just before the revolution they owned a chain of 14 all over the country) they also in conjunction with Salamonsky ran circuses in Moscow and Riga.
Then came the Revolution, all of the Truzzis fled except William the son of Gigetto-during the Revolution the people looted the Circus and Pantomime costumes and it is said that during the winter you could see walking  the streets Louis XIV, Napoleon or a Lady Macbeth holding hands with Sherlock Holmes.
Your grandfather Enrico was a remarkable man, one of the best jugglers on horseback of his time and a great producer and director of pantomime.  He also composed the music for his productions of Quo Vadis, Marco Polo, Sherlock Holmes etc.
Another remarkable man in the family was William Truzzi (son of Gigetto).  One of the greatest trainers of Liberty dressage horses of all time - his productions with horses were sensational especially 1001 nights.
William was a very courageous and extremely ambitious man. He stayed in Russia all through the revolution-he went through famine and revolutionary Tribunals and survived losing practically everything. He built up an act from scratch with 40 beautiful horses and was invited to London (by Bertram Mills at Olympia) and to Madrid by Alfonso XIII . He was a sensation everywhere but he missed Russia and when the Soviet Government offered him the post of Artistic Director of all the Soviet circuses he returned to Moscow.
He died in Leningrad at the age of 42 his wife Emmy lives in England with his son Gigetto and daughter Yolanda.
          Footnote:
My Grandfather was William Truzzi, my father Gigetto toured abroad in many circuses and latterly in variety with Lauri Lupino Lane culminating in the Royal Variety Performance. Yolanda married Jimmy Kayes another circus family and together with their sons run many fairground shows, Jimmy still occasionally making appearances as ringmaster for Roberts Bros. Circus
See also:        www.juggling.org/fame/truzziact.html
                        www.parapsych.org/obituaries/marcello_truzzi.html
<![if !vml]>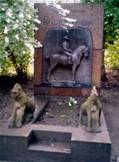 <![endif]>
 William Truzzi's grave in the Artists Cemetery in St. Petersbourg
 David Truzzi- Franconi
 E.Mail davidtruzzifranconi@suffolkonline.net